Chip Talk Broadcast Subscribers
CLICK HERE FOR IMPORTANT NOTICE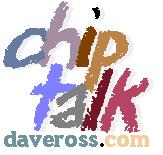 .


NOTE: Only plain text e-mails are accepted.
Companies:
Audio Transcripts
Speaking Engagements
---

Chip Talk with Kevin Ebi Current links:
JAN...FEB...MAR...APR...MAY...JUN...JUL...AUG...SEP...OCT...NOV...DEC

Week of October 31, 2005
MON: OpenOffice, the free office suite, now includes a database program
TUE: A Japanese firm creates a shape-changing inflatable robot
WED: Instant TV for Notebooks creates a laptop TiVo
THU: FreeForAll.org matches those who have stuff to spare with those who need it
FRI: Realtime Landscaping provides desktop garden design

---
Week of October 17, 2005
MON:
Edit.com makes it easy for small companies to maintain their own web sites
TUE:
The Find A Human cheat sheet navigates corporate voice menus easily
WED:
Phones that make calling easier for the disabled
THU:
The Acura R-L includes collision-avoidance technology
FRI:
ReadyWhenUR is a remote-control tea kettle that you control with a cell phone
---
Week of October 10, 2005
MON:
The Digital Hotspotter is a divining rod for available wireless networks
TUE:
Using surplus displays, and an old computer, Ryan Hoagland now has a home with a view
WED:
Last chance to get the iGesture pad, as its creator goes bankrupt
THU:
Lulu, an online vanity press, will print your rejection letters on rolls of toilet paper
FRI:
Oakley's latest sunglasses double as a hands-free cell-phone headset
---
Week of October 3, 2005
MON:
WebMath.com offers brush up courses for parents struggling to help their kids with homework
TUE:
RespiSense uses a tiny motor to stimulate breathing in infants at risk for SIDS
WED:
L3 Systems' new keyboard is less than six inches wide, and straps onto your wrist
THU:
New hi-tech parking meters take electronic payments, and reset themselves when you pull out
FRI:
It's a mouse and a trackball all in one
---
Week of September 26, 2005
MON:
Toshiba develops battery-free MP3 players that run on methanol
TUE:
"Kaleidescape" creates your own DVD jukebox
WED:
"LivingTime" - a software package that allows you to organize a diary of your life
THU:
The PowerSquid makes it easy to plug in bulky power supplies without blocking outlets
FRI:
Watch out -- a free long distance service called AdCalls puts your friends on a telemarketing list
---

Week of September 19, 2005
MON: The Laptop Desk is a new device thatís sort of like a TV tray for your computer
TUE: The Air Scooter could give wings to the masses
WED: TwinHead's DuraBook is a ruggedized laptop designed to be lighter than military versions
THU: ZoomInfo is a search engine that specializes in biographical information
FRI: Cell Phone coverage maps: Best - T-Mobile. Fair - Verizon. Primitive: Sprint

---

Week of September 12, 2005
MON: AAA's online gas price tool estimates the cost of the trip before you even hit the highway
TUE: The Stress Eraser is a pager-size device designed to lead you through a series of breathing exercises
WED: Internet-ready light bulbs that alert you when they burn out
THU: Vizoo creates holographic ads for grocery stores
FRI: Pen-size computers: LeapFrog's "Fly" / Logitech's io2

---
Week of September 5, 2005
MON:
The Swiss Institute for Artificial Intelligence proposes an IQ test for software
TUE:
Google's Talk service is an open instant message system that will message anyone
WED:
SpyXposer from PandaSoftware is updated daily detect spyware
THU:
Synergy2 lets you control two computers from one keyboard, regardless of operating system
FRI:
RecoveryPC can undo the damage from a crash, even if your computer can't boot
---
Week of August 29, 2005
MON:
The Jerk-O-Meter can tell you if the party you're calling really cares about what you're saying
TUE:
Lights that stay on -- without battery backup -- even when the power goes off
WED:
A scanner that recognizes the breath scents emitted by disease
THU:
FairSnipe.com helps you take advantage of airlines' "flash" ticket sales
FRI:
Instead of raising their hands, students can no click in
---
Week of August 22, 2005
MON:
Cybernet's new software allows you to control your computer using only your face
TUE:
Replacing office windows with artificial sunlight
WED:
SHARK (Shorthand-Aided Rapid Keyboarding) can key in 60 words a minute without a keyboard
THU:
Chitika turns banner ads into personal shopping assistants
FRI:
SmartWear launches a line of kids' pajamas with RFID locator tags sewn into them
---
Week of August 15, 2005
MON:
Sharp's new monitor allows two people see different content on the same screen at the same time
TUE:
Hitachi introduces a mirror that doubles as a computer display
WED:
Pledge Bank helps you get on-line support for quitting smoking, giving blood, losing weight and other worthy goals
THU:
Home Heartbeat uses a network of sensors to check whether or not the coffee pot is still on
FRI:
Fontifer allows you to create a True-Type font of your own handwriting
---
Week of August 8, 2005
MON:
Intelís hot spot finder lists more than 28,000 Internet access points throughout the U-S
TUE:
Wide-Ray tests a new service sends movie previews directly to Bluetooth-equipped cell phones
WED:
The Ion Kids system electronically monitors the whereabouts of up to four children
THU:
The On Time/Payment Protection System forces you to make your car payments on time
FRI:
Project Ooz is a zoo that lets visitors control mechanical animals which interact with real animals
---
Week of August 1, 2005
MON:
Boeing's "Connexion" in-flight internet service wins praise from business travelers
TUE:
Mile-High bloggers can now do it in-flight
-- more samples
WED:
Fujitsu demos a bendable, nearly paper-thin screen that works a lot like paper
THU:
A Japanese ATM machine that plays like the slots
FRI:
Rick Rashid of Microsoft Research says teaching kids about gaming can create tomorrow's geniuses
---
Week of July 25, 2005
MON:
Nissan develops a rear-view camera system that eliminates blind spots
TUE:
"Google Earth" lets you zoom in on actual aerial photographs of cities
WED:
A new in-car navigation system would connect to your personal address book and daily calendar
THU:
Getting over internet addiction
FRI:
Zenph Studios can analyze old piano recordings and perfectly transcribe every note
---
Week of July 18, 2005
MON:
Samsung considers a technology that will allow you recall ill-advised text messages
TUE:
HumanWare develops a portable computer with a Braille display
WED:
Finnish researchers program camera-phones to scan bar codes of food products as a diet aid
THU:
Sohgo Security builds robotic guards able to recognize people 150 feet away even at night
FRI:
The Sunlight Desktop uses fiber optic wires to bring natural sunlight to your workspace
---
Week of July 11, 2005
MON:
NEC develops a disposable cell phone made largely out of corn
TUE:
Paymint Inc. of Canadian lets you pay for parking space using your cell phone
WED:
Soldius' "Maximum Solar Power Tracking" lets you recharge your batteries anywhere you can find direct sunlight
THU:
The Mobile Plate Hunter uses two infrared cameras mounted on a police car to check 800 license plates an hour
FRI:
BookKey is a browser add-on that insures you will never lose a bookmark
---
Week of July 4, 2005
MON:
Compro Technology introduces a new TV tuner that plugs into your computer's USB slot
TUE:
Dialogue's super-small "Flybook" laptops measure 9 by 6, including keyboard
WED:
The Health and Foodstuff Adviser is a robot that infrared beams to examine your food
THU:
A computer that monitors your workload to determine if you're making enough time for your friends
FRI:
Brother develops a super-fast ink-jet that can print three pages per second
---
Week of June 27, 2005
MON:
Intel sets a 2008 goal for laptop computers that can run for 8 hours on a single charge
TUE:
CVS/Pharmacy is introducing disposable digital video recorders
WED:
The Olympus always-on video display lets you check any mobile device without actually looking at it
THU:
Japanese university researchers develop HAL-5, a robotic suit that can give anyone super-human strength
FRI:
Mixed Reality Lab's human version of Pac-Man uses goggles to send you chasing ghosts around your neighborhood
---
Week of June 20, 2005
MON:
The Kinniku Mouse comes with electrodes that can give your out-of-shape muscles a little shock
TUE:
I-O Display's goggles make you feel as if you are watching a 76-inch TV
WED:
Delicious Library is an application for the Apple Macintosh that can survey and file everything you own
THU:
One of Japan's largest karaoke parlors can send the video of any performance to your cell phone
FRI:
MetroFreeFi.com is an online directory of free, wireless high-speed access points
---
Week of June 13, 2005
MON:
A home control system from Eneo Labs uses cell phone text messaging
TUE:
Yahoo tests a search engine designed to organize results by category
WED:
Plasma and Ion Beam design a new type of speaker made of a thin plastic film
THU:
Georgia State University studies virtual reality to treat stage fright
FRI:
Cornell University develops a simple robot that can reproduce
---
Week of June 6, 2005
MON:
Roomba's robot cousin, Scooba, not only vacuums, but washes and dries wood, tile and linoleum floors
TUE:
MyFoodPhone uses your camera phone to take pictures of every meal, keeping you true to your diet
WED:
CipherTrust develops a Zombie Meter to keep track of computer-napping viruses called "zombies"
THU:
iHealthRecord allows you to create your own medical file online
FRI:
Finis announces the he SwimP3, an MP3 player for watersports
---
Week of May 30, 2005
MON:
First in Asia, then here: mobile phones that double as TVs
TUE:
Panda Software's TruPrevent technology is designed to detect new viruses without regular updates
WED:
Omron's office productivity system uses radio-frequency tags to track employees
THU:
Needies -- potentially annoying successor to the Virtual Pet
FRI:
A laptop bag that unfolds into a usable work area
---
Week of May 23, 2005
MON:
Google's WebAccelerator speeds up text downloads
TUE:
A washing machine called Your Turn forces men to help with the laundry
WED:
Flirting via Blackberry
THU:
Surviving PC Disasters, Mishaps, and Blunders
FRI:
A wireless system that allows you to pet a chicken via the Internet
---
Week of May 16, 2005
MON:
Surfing the web without leaving a trace
TUE:
ITsafe provides free information on the latest virus threats
WED:
Sonaptic creates surround sound using only two speakers, with possible applications to cell phones
THU:
Panasonic says its new Oxyride batteries will keep digital cameras operating longer
FRI:
Ghost Radar plugs into your computerís USB port and monitors for the presence ...of ghosts
---
Week of May 9, 2005
MON:
A new study suggests ubiquitous connectivity may be making us stupid
TUE:
A new federal web site lets you compare hospitals
WED:
A Swiss company develops a robotic jockey called "Kamel" expressly designed for camel races
THU:
DocuSign allows you to sign documents online quickly and securely
FRI:
YaGooHooGle.com will search Yahoo and Google simultaneously
---
Week of May 2, 2005
MON:
VinoVenue uses computer-controlled dispensing machines and pre-paid smart cards to automate wine-tasting
TUE:
Clocky -- the hi-tech alarm clock that plays hide and seek
WED:
The "thinking carpet" has special sensors to detect temperature and movement
THU:
"Audio cloud" technology will allow you to control mobile devices by gesturing
FRI:
Toshiba develops a battery that can recharge in about one minute
---
Week of April 25, 2005
MON:
AffectiveMedia develops an early-warning system for road rage by sensing the driver's mood
TUE:
Cinecopia -- a DVD trading service with no late fees
WED:
AOL is launching what it calls Internet Phone Service
THU:
Microsoftís Tbox connects mobile phones, PDAs, laptops, and other device on the road
FRI:
PhotoLeap shrinks e-mailed photos to a manageable size
---
Week of April 18, 2005
MON:
Google's RideFinder uses global positioning technology to find the nearest cab
TUE:
TalkToAliens.com lets you call outer space for about four dollars per minute
WED:
Dropload is a free service that lets you share large files easily
THU:
Exinda Networks is developing ways to bill employees for their internet use
FRI:
Microsoft develops a photo download system for cellphones
---
Week of April 11, 2005
MON:
A new service from AOL gives parents control over teen blogs
TUE:
Microsoft develops a new service that protects credit card numbers during on-line transactions
WED:
PezMP3 is an MP3 player built into a Pez dispenser
THU:
IBM's "Millipede" storage system would pack 600-thousand digital camera images onto a postage stamp chip
FRI:
Bluetooth technology finds a role in bovine management
---
Week of April 4, 2005
MON:
Microsoft's LifeBrowser organizes files by linking them to events in your life
TUE:
Cornell University researchers develop maps for the blind
WED:
A University of California researcher discovers a technique for tracking your computer's unique electronic fingerprint
THU:
A new anti-theft cell phone requires you to photograph yourself before making a call
FRI:
More than 80 percent of parents surveyed say their teens are not careful enough online. And the teens agree!
---
Week of March 28, 2005
MON:
Microsoft's experimental PhotoPie can categorize your photos and create slide shows
TUE:
I/O Magic's surround sound headphones give you a theater experience without bothering your neighbor
WED:
Toshiba's Ubiquitous Viewer lets you control your home or office computer through your mobile phone
THU:
The Absolute Software laptop security system constantly reports its whereabouts every time itís online
FRI:
A free browser plug-in called Browster builds miniature images of retrieved pages
---
Week of March 21, 2005
MON:
Microsoft develops digital wallpaper... a giant wall of computer monitors, all powered by one machine
TUE:
A study by the Pew Internet and American Life Project advises using more than one search engine
WED:
The SleepTracker is an alarm clock that senses when you've had sufficient REM sleep
THU:
The "Everio" from JVC combines a camcorder with a still camera
FRI:
A prototype overcoat covered in electrostatically-charged fur automatically shocks people who get too close
---

Week of March 14, 2005
MON: Netscape and Opera's new web browsers help protect your identity online
TUE: BookLocker is a tiny portable computer drive designed to hold electronic copies of textbook
WED: ReturnPath lets you take your old e-mail address with you, for a fee
THU: How to make good photo prints at home
FRI: A mannequin from Flower Robotics attempts to attract shoppers attention and also spies on them

---
Week of March 7, 2005
MON:
Sprint and Epson introduce an online service that lets you make prints from your Sprint camera phone
TUE:
AOL Local Search lets you search for restaurants and movie theaters based on how close you are to them
WED:
An SAT study service from Vocel will load 200 questions into a cell phone, and administer a timed exam
THU:
Macrovision's new copy-protection technology foils DVD pirates
FRI:
A Swiss company's automated banking service has evolved into a virtual girlfriend who will chat with you for six dollars a month
---
Week of February 28, 2005
MON:
Canon's new hi-resolution digital camera is designed for amateur astronomers
TUE:
Better Business Bureau finds that only 11 percent of identity theft cases are due to Internet theft
WED:
The Virtual Laser Keyboard lets you type wherever you can find a flat surface
THU:
In Berlin, a robot called "Outerspace" -- inspired by insects -- learns to respond to touch
FRI:
NTT Communications is testing a method for transmitting SMELLS by internet
---
Week of February 21, 2005
MON:
Your car could soon need protection from computer viruses
TUE:
A New York car restoration company installs MiniMacs into classic cars
WED:
Security concerns drive some users from Microsoft's Explorer browser to Firefox
THU:
SideWinder cranks emergency electricity into you mobile phone
FRI:
SIMpill monitors prescription pills to control dosage
---
Week of February 14, 2005
MON:
Tax prep software
TUE:
Tax prep software
WED:
A-9's drive-by Yellow Pages let you see a business before you visit
THU:
Cingular Wireless brings TV on demand to your mobile phone
FRI:
Ciphire Mail can thwart e-mail spies
---
Week of February 7, 2005
MON:
Google tests a service that searches the text of selected national broadcasts within hours of air time
TUE:
The National Cristina Foundation puts old computers in the hands of at-risk students or people with disabilities
WED:
MapQuest make it easier to send driving directions and color maps to wireless phones
THU:
StreamLoad's online storage center gives you ten gigabytes of your own space for free, with one catch
FRI:
Hewlett Packard files a patent for a remote control that will prevent people with camera phones from taking your picture
---
Week of January 31, 2005
MON:
Google releases the latest version of its Picasa digital imaging software
TUE:
Samsung's new mobile phone will eliminate the need for buttons
WED:
Postini.com posts the latest spam stats
THU:
MIT develops a voice mail system that can automatically prioritize messages
FRI:
Motorola and Burton develop a new snowboard helmet that doubles as a wireless phone
---
Week of January 24, 2005
MON:
Yahoo unveils its own program for finding lost files on your hard drive
TUE:
Brother Corporation unveils a new sewing machine that can embroider digital images directly onto your clothing
WED:
Hitachi cuts the size of its tiniest hard drive by 20 percent, and soon your mobile phone will have one
THU:
JVC uses corn starch to manufacture environmentally-sensitive DVDs
FRI:
A team of scientists in South Korea claims to have developed the worldís smartest robot
---

Week of January 17, 2005
MON: Pioneer and Clarion unveil i-pod adapters for the car
TUE: A Japanese company develops an "invisible fence" for laptop security
WED:Microsoft unveils its Windows "anti-spyware"tool
THU: "VisitorVille" documents what employees do on-line
FRI: Thanko, Inc. develops a device that uses your computer to keep your coffee warm

---
Week of January 10, 2005
MON:
A Spanish company designs a car powered by compressed air
TUE:
ClearSky Mobile Media delivers real estate information through text messaging
WED:
LA Police test a new system to identify criminal suspects by examining only their faces
THU:
Go's recharging system is intended to work with almost any device
FRI:
Honda's new robot, Asimo, can keep its balance and even run
---
Week of January 3, 2005
MON:
A new search engine called PubSub tracks subjects and alerts you when they're mentioned
TUE:
Pokia.com introduces 60's-style cell phones
WED:
The ATOM SpeedPad is a backup laptop battery housed in an aluminum mouse pad
THU:
Philips new flat-screen TV includes built-in ambient light for the viewing room
FRI:
Researchers at the University of Warwick work to develop a biodegradable cell phone
---
Week of December 27, 2004
MON:
The See Anywhere, Map Anywhere system will give you access to satellite images of Earth
TUE:
Canadian researcher figures out a way to let you move the cursor with your nose
WED:
SunWize's "portable energy system" uses a solar panel to recharge most portable electronics
THU:
SanDisk's "Photo Album" is out with a new device that lets you show off your pictures on your TV screen
FRI:
A new injection system uses a camera, computer and projector to help the nurse find those elusive veins
---
Week of December 20, 2004
MON:
Newsstand.com creates online publications that look like the real thing
TUE:
Ben Edelman can prevent your computer from automatically loading spyware
WED:
The Swiss Army knife goes high-tech
THU:
MIT's SmartPhone monitors your phone use and dispenses career-saving advice
FRI:
Texas Instruments creates an accurate battery monitor
---
Week of December 13, 2004
MON:
RCGroups.com Calendar Contest: pictures from remote-control airplanes.
TUE:
Computers that do taste tests. Nizo.com
WED:
Your car may be able to help you drive more safely
THU:
Google introduces a search engine for scholars
FRI:
A screensaver that fights spam?? Lycos fignts spam with spam.
---
Week of December 6, 2004 Return to TOP
MON:
Be aware of this trojan horse that will cripple your cell phone
TUE:
Did the artist have help? Consider the field of art forensics.
WED:
Artists originally from robots
THU:
Changing the ring...from the caller's point of view
FRI:
"Spotlighting" the task at hand to save energy on handheld PCs
---
Week of November 29, 2004
MON:
Finally! It's about time for www.livemanuals.com
TUE:
Instant Movie Make makes interesting and thus rewatchable home videos
WED:
Konfabulator for Microsoft Windows
THU:
Helping the blind to cross the street
FRI:
Adesso creates the computer for the germophobe!
---
Week of November 22, 2004
MON:
See pictures from space!
TUE:
Keep sensitive information secure
WED:
Fix your own Apple, without the customer service dept.
THU:
A large mobile phone, shoots video, captures still shots...
FRI:
The "black box" in your motor vehicle
---
Week of November 15, 2004
MON:
From VHS to DVD
TUE:
Virtual PC on your Apple Macintosh
WED:
Disputing your traffic ticket online
THU:
Sunglasses with the built-in MP3 from Oakley
FRI:
Bharosa.com
resembles a combination lock to enter your passwords safely online
---
Week of November 8, 2004
MON:
Printing photos from your phone
TUE:
Your own system mechanic...for the computer
WED:
NEC in Japan presents an electronic translator (PDF document)
THU:
Teaching Windows via models: bikiniclassroom.com
FRI:
Incredimail.com:spam-fighter!
---
Week of November 1, 2004 Return to TOP
MON:
Newer smarter search engines
TUE:
Better brightness from camera phones
WED:
Understand those barks!
THU:
CleanMyPC declutters the desktop and files
FRI:
Grocery stores evolve, always selling you more
---
Week of October 25, 2004
MON:
Disposable cameras go digital
TUE:
Google on your desktop
WED:
Spam and spit!
THU:
No more dropped calls with the Freedom Antenna
FRI:
The virtual traffic cop pledges to improve safety on the road
---
Week of October 18, 2004
MON:
JVC: making high quality movies
TUE:
Choice Mail uses your personal e-mail address book to fight spam
WED:
Hasards to wireless networks and cellular phones?
THU:
Retouching those digital photos with free software: Picasa
FRI:
Clutsy search engine categorizes your search results
---
Week of October 11, 2004
MON:
Amazon.com comes out with their latest product: a search engine.
TUE:
Preview: Monitoring what your kids see on the computer while you are out
WED:
"I'll be out of the office": trancking employees who leave the cubicle
THU:
Novii.tv: palm pilots and televisions all controlled with one handheld
FRI:
CMU & MIT collaborate on a new lighter-than-water robot
---
Week of October 4, 2004 Return to TOP
MON:
The WB network previewed its new shows online
TUE:
Instant messaging through a new AT&T wireless device
WED:
Sceneit.com makes a board game for the ultimate movie buffs
THU:
Don't deprive your best friend from a cell phone: your dog
FRI:
Checked in via text message? You're flying FinnAir
---
Week of September 27, 2004 with Kevin Ebi
MON:
Use your cell phone as your credit card
TUE:
EcoBot Two eats flies to generate electricity
WED:
The old Atari games can be played again without switching the cartridges
THU:
Continental Airlines and its frequent flyer miles -- see when they're redeemable online
FRI:
Internet via satellite by Starband.com
---
Week of September 20, 2004 with Kevin Ebi
MON:
Roboform remembers your passwords and keeps them safe
TUE:
Move your cows without a cattle rancher: invisible fences for bovines
WED:
Zcorp.com releases the three-dimensional printer
THU:
The new Blu-Ray DVD is recyclable
FRI:
Little mice for little hands: logitech.com
---
Week of September 13, 2004 with Kevin Ebi
MON:
Upcoming savings on practically essential technology... cell phones and laptops
TUE:
Onstar technology can help you in a motor vehicle crash
WED:
Cooking what you're likely to order before you order
THU:
Fuji film and its bigger, faster computer DVDs
FRI:
Have an "automatic" home
---
Week of September 6, 2004 with Kevin Ebi Return to TOP
MON:
Get up and move while playing video games
TUE:
Computers monitor for quality assurance
WED:
IBM's Veggie Vision: digital camera identifies your produce
THU:
Bitmicro.com: flash "fast" technology
FRI:
Read about Internet at the speed of light
---
Week of August 30, 2004 with Kevin Ebi
MON:
Flaws in BlueTooth technology
TUE:
Could your credit card number be searchable on line with Google?
WED:
Problems with Internet phone service
THU:
Putting your personal photos on your stamps
FRI:
Continuing the fight against spam; iHateSpam.net
---
Week of August 23, 2004 with Kevin Ebi
MON:
The iRiver PMP-100 can store up to 150 hours of video
TUE:
Tripod Data Systems' ruggedized line of handheld computers
WED:
Turning your iPod into a boom box
THU:
Stanford researchers design a foolproof password-protection system
FRI:
American Power Corporation's travel bags make computer recharging easy
---
Week of August 16, 2004 with Kevin Ebi
MON:
German company's project delivers movie theater-like surround-sound
TUE:
MP3RUN plays your music & manages your workout
WED:
Powering your laptop with fuel
THU:
Surf the Internet with iRider
FRI:
Reading online material without entering your personal information
---
Week of August 9, 2004 with Kevin Ebi
MON:
Hyper-sonic sound coming soon
TUE:
How easy is web design?
WED:
Medical research while you (don't) wait
THU:
Stopzilla blocks most pop-up ads
FRI:
Read about the hotel room that is a vacation in itself.
---
Week of August 2, 2004 with Kevin Ebi
Return to TOP
MON:
E-mail no longer secret
TUE:
Maps as they should be viewed
WED:
"Bill Me Later" feature used by online merchants
THU:
Get your files back with File Rescue
FRI:
The world's largest encyclopedia
---
Week of July 26, 2004 with Kevin Ebi
MON:. .
TiVo-style video on any computer
TUE:...
WiFi seeker makes it easy to find wireless internet service
WED:...
On line banks improve their services
THU:....
Americans are still confused by tech terms
FRI:....
VoxProxy adds animated effects to presentations
---
Week of July 19, 2004 with Kevin Ebi
MON:..
The cops use TiVo-style technology to catch crooks
TUE:...
nTracker from SyNET allows stolen computers to secretly phone home
WED:...
Most business make poor use of on line customer communication
THU:....
University of Washington researchers investigate the use of virtual reality to ease pain
FRI:....
Cell phone manufacturers investigate solar power
---
Week of July 12, 2004
MON:..
Adidas develops a computer-controlled running shoe
TUE:...
"Ben's Game" -- a free video game that helps kids cope with cancer
WED:...
Should you use a non-Microsoft browser to protect against worm attacks?
THU:....
Automating the on line auction process
FRI:....
Samsung's v450 phone doubles as a de-facto Game Boy
---
Week of July 5, 2004 Return to TOP
MON:..
Localizing internet ads
TUE:...
Kodak's new digital print kiosks
WED:...
"War drivers" check digital security
THU:....
Sun's Project Looking Glass is a 3-D operating system
FRI:....
The excuse and alibi club
---
Week of June 28, 2004
MON:..
Sender ID could end e-mail anonymity
TUE:...
The Cyber Angel locates stolen laptops
WED:...
BringYourPet.com helps find pet-friendly accommodations
THU:....
The Cabir virus is a computer worm that targets certain cell phones
FRI:....
The AAA launches AAAmaps.com
---
Week of June 21, 2004
MON:..
Memorex introduces high-capacity double-layer DVDs
TUE:...
Research shows doctors slowly moving on-line
WED:...
MIT scientists make an energy-producing cell out of spinach
THU:....
MailFrontier issues another "phishing" warning
FRI:....
GE's new Entry Scan can quickly test for explosive residue at airport checkpoints
---
Week of June 14, 2004
MON:..
The E-Frame from Pacific Digital is a wireless digital picture display
TUE:...
AccreditCheck can tell whether your college degree is legit
WED:...
www.snipnsend.com turns CD excerpts into ring tones
THU:....
BigString.com adds unprintable e-mail
FRI:....
GoodCharacter.com -- a web site designed to help teachers discuss the elements of good character
---
Week of June 7, 2004 Return to TOP
MON:...
MP3 Pro packs more audio in less space
TUE:...
VoiceSignal's PC Link lets a cell phone recognize spoken contact names
WED:...
Essential Security Software lets you control sent e-mail
THU:....
Brandeis introduces the on-line spelling bee at spellbee.org
FRI:....
Preserving Antique records
---
Week of May 31, 2004
MON:...
The Eye Q system will allow intelligent cruise control
TUE:...
The Visikey keyboard has letters you can actually see
WED:...
Janome's Memory Craft 300E does computerized embroidery
THU:....
Newsweek covers cool new phones
FRI:....
Startcop's Mobile wallet
---
Week of May 24, 2004
MON:...
The Linksys Media Link gets music from your computer to your stereo
TUE:...
Replay Music is a streaming recorder that creates separate music tracks
WED:...
BlogPulse.com lists and ranks blog sites
THU:....
Infuzer automatically enters information into your scheduler
FRI:....
Young computer users still defy copyright law
---
Week of May 17, 2004
MON:...
eFax starts charging for free fax accounts
TUE:...
Radio Shack will sell broadband telephony equipment for toll-free calls
WED:...
On-line help writing ads for the personals
THU:....
Danger, Inc. updates its "hiptop" Wireless Solution
FRI:....
Microsoft plans built-in spyware protection in XP
---
Week of May 10, 2004
MON:...
iBIZ introduces its laser virtual keyboard
TUE:...
The Sasser virus plants a program called avserve.exe
WED:...
Bluesnarfing and Bluejacking may haunt cell phones and PDAs
THU:....
Text Monkey cleans up forwarded e-mail
FRI:....
TwinGalaxies.com plans the Athens of video gaming
---
Week of May 3, 2004 Return to TOP
MON:...
Microsoft's Universal Pen
TUE:...
InPhase Technologies unveils bottomless holographic data storage
WED:...
VerifiedVoting.org claims a victory over touch screen voting machines
THU:....
The Calorie Cruncher looks up the content of fast foods.
BodyBuilding.com has a free calorie index
FRI:....
The Websense Web@Work survey finds a large number of computers infected with spyware
---
Week of April 26, 2004
MON:...
Robosapien - a recreational robot
TUE:...
TNO invents a motion sensor to warn of impending car-sickness
WED:...
Holosonics prepares to roll out Directional Sound -- private audio without headphones
THU:....
ReCellular is ready to recycle and re-use old cell phones
FRI:....
Active Recognition Technologies checks on license plates with V-Metrics
---
Week of April 19, 2004
MON:...
The Business Software Alliance tries to change the morals of young software pirates
TUE:...
Verified Voting.org campaigns for paper ballots
WED:...
Sanyo's PM-8200 camera phone
THU:....
Zip Vision is an electronic ink display device using technology from Gyricon.
FRI:....
E-ViEWS develops an intersection warning system for emergency vehicles
---
Week of April 12, 2004
MON:...
Digital processing from FotoNation removes red-eye INSIDE the camera
TUE:...
The Political Machine -- a strategy game based on real election stats
WED:...
Gurunet is a Google alternative billed as an "answer" engine
THU:....
The "Dig-E-Player" provides video on demand for airline passengers
FRI:....
The Lane Departure Warning System from Iteris
---
Week of April 5, 2004 Return to TOP
MON:...
The University of San Francisco sets up a flash mob supercomputer made up of laptops
TUE:...
Fundrace.org lets you look up political donors by zip code
WED:...
Shell's Home Genie provides home control and monitoring from a web page
THU:....
Blue Fire Security advises to watch for cell phone infections
FRI:....
Aha-Soft releases its ArtIcons Pro icon designer
---
Week of March 29, 2004
MON:...
Motorola's Integrated Hands-Free Car Phone means you never interrupt a call
TUE:...
New internet audio compression schemes; MP3 Pro Demo
WED:...
Nielsen's survey on politically-active web users
THU:....
ToneSession from Waymobile.com turns your phone into a ring tone composer
FRI:....
Garmin releases GPS mapping software for sports fishing
---
Week of March 22, 2004
MON:...
The Dymo Desktop label writer makes labels a snap
TUE:...
Apple's iTunes reaches another milestone
WED:...
Weaknees.com sells souped-up, high-storage TiVos
THU:....
BigString.com is an e-mail service that lets you retrieve e-mails even AFTER they've been sent
FRI:....
Watch out for "phishing": forward bogus e-mails seeking personal information to alert@aba.com
---
Week of March 15, 2004
MON:...
Flat-rate phone calling using Packet8
TUE:...
The Scripps Clinic designs an electronic knee
WED:...
The WiFi detector attaches to a keychain
THU:....
New poll figures show college students spend lots of time on-line
FRI:....
VacationDesigner.com helps fill your vacation schedule
---
Week of March 8, 2004
MON:...The DH1 Digital Hub from OMwave plays any media
TUE:...Everyone.net fights spam for $3 a month
WED:...Subject of listener critique: PhotoVu's hi-end digital picture frames
THU:....E-narratives software writes sports items automatically
FRI:....TiVo approaches 1.5 million subscribers
---
Week of March 1, 2004 Return to TOP
MON:...
Emuzed.com provides short-form music videos on your cell phone
TUE:...
How to shop for broadband service: CNET's comparison chart
WED:...
Casio says the Exilim EX-Z40 won't suck the batteries dry like other digital cameras
THU:....
Eye Toy: Groove gives kids (and adults) a reason to exercise
FRI:....
Authentidate.com integrates Electronic Postmarks into MS Word
---
Week of February 23, 2004
MON:...
The Argus 1700 series: digital cameras under $50
TUE:...
The always-connected FlipStart hand-held from Vulcan
WED:...
Dialog Clarity Technology makes the home theater dialogue track easier to hear
THU:....
MobilEye Vision Technologies brings image recognition to automobiles
FRI:....
Cleverpower.com markets a whisper quiet power supply for PCs
---
Week of February 16, 2004
MON:...Drivesavers.com has a crisis counselor for customers who've lost their data
TUE:...Luminous Parrot's "Dream In Pictures" photo software in beta testing
WED:...LeapFrog puts academic games into a handheld computer
THU:....PhotoVu sells hi-end digital picture frames using WiFi connections
FRI:....Award-winning medical sites: www.medlineplus.gov, www.mayoclinic.com

---
Week of February 9, 2004
MON:...
Postini.com sees little effect from the anti-spam act
TUE:...
NASA's long-distance computer re-boot
WED:...
RSS creates your own desktop wire service
THU:....
Delenda is a utility that automatically deletes expired files
FRI:....
Rapsheets.com finds out who's been naughty
---
Week of February 2, 2004 Return to TOP
MON:...
ParkingTicket.com helps you fight parking tickets on line
TUE:...
Pop Up Defender kills pop-up swarms - download page
WED:...
MyDoom virus dooms America to more e-mail hell
THU:....
OpenAuto.com has the used car find YOU
FRI:....
The MacNTouch Keyboard (for the Mac G4) senses hand gestures
---
Week of January 26, 2004
MON:...
Gadget Diary -- drugstore thumb drive (Computer Essentials, 32 MB, Walgreen's)
TUE:...
Pop-Up ads start to play rough, thanks to Popstitial technology
WED:...
Unicast punctuates your surfing with full-motion video
THU:....
Evil doers use an Explorer flaw to get your account number
FRI:....
Recharge your cell phone anywhere with the Sidewinder
---
Week of January 19, 2004
MON:...Audiotrieve survey finds spam levels unaffected by new law
TUE:...The Dex Online Pages aren't what we've come to expect in a search service
WED:...Gadget Diary: the Extreme 3 PDA by Royal, addresses on the cheap
THU:....Labels on the Internet from Labels Anywhere and Avery
FRI:....Smart Music provides computerized backup accompaniment for student musicians
---
Week of January 12, 2004
MON:...The EPSON P-1000 displays digital photos
TUE:...i-O display systems releases the palm-sized Riviera DVR
WED:...Gateway supplies thousands of flat screens to the Wynn Las Vegas resort
THU:....Corrupted files -- send your horror stories to dave @ chiptalk.com
FRI:...Camera phones with flash from Audiovox

---
Week of January 5, 2004 Return to TOP
MON:...
Easy Uninstall cleans up unused files
TUE:...
N-liter lets you scribble notes on web pages
WED:...
The Religion Selector can help you figure out what you believe in
THU:....
Alpine Electronics HDA-5460 Media Player
FRI:...
D-Link's wireless video phone uses your TV to let you see callers
---
---